Boston Bruins Jersey History: 1973 - 1974
---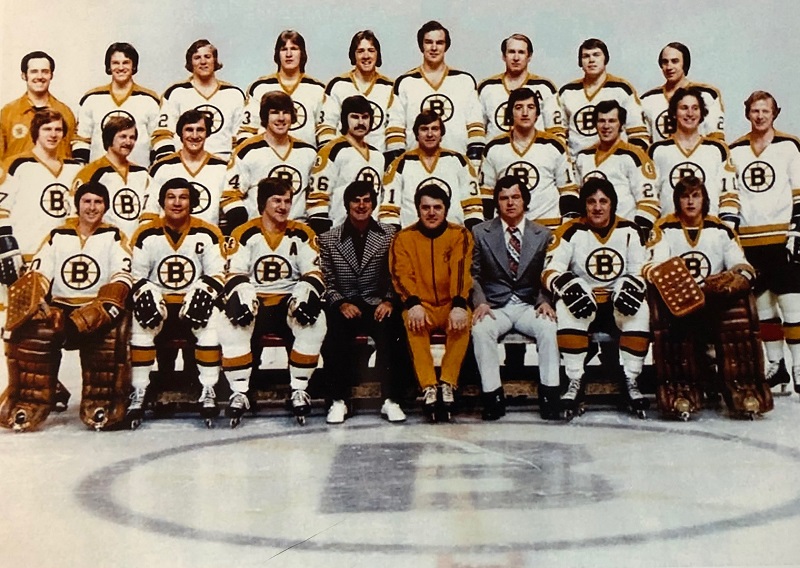 The Bruins would utilize Wilson dureen knit jerseys for the 1973-74 season that mirrored the gold shoulder style as seen in previous seasons with two notable exceptions:
1. The Boston Bruins 50th Anniversary shoulder patch
2. The neck tie-downs were removed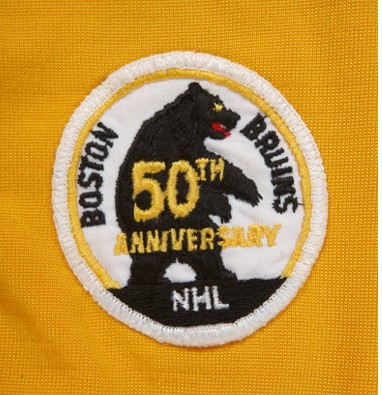 The Bruins would use two sets of jerseys for both home (white) and road (black). The second set of jerseys feature the jersey numbers placed lower on the back to allow for nameplates which would be introduced for the first time and used for NBC televised games, including two of the games during the Stanley Cup Finals against the Flyers.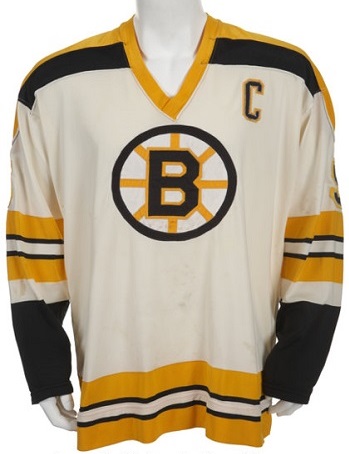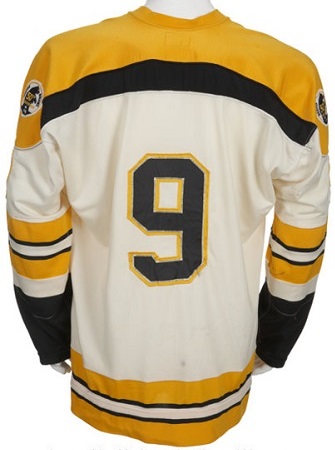 Home Jersey
Photo Source: Heritage Auctions - ha.com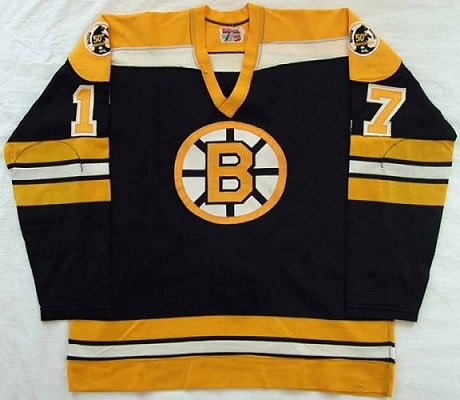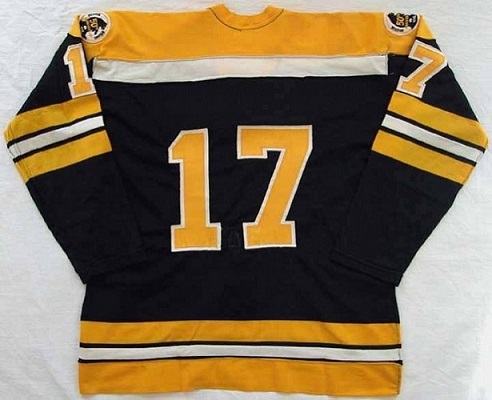 Road Jersey
Photo Source: GameWornAuctions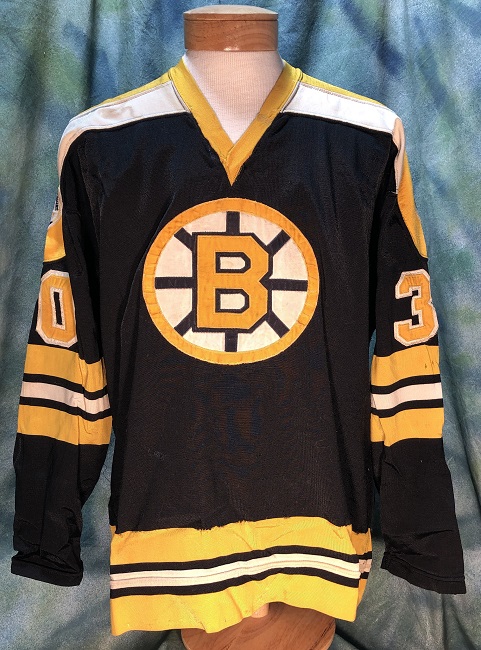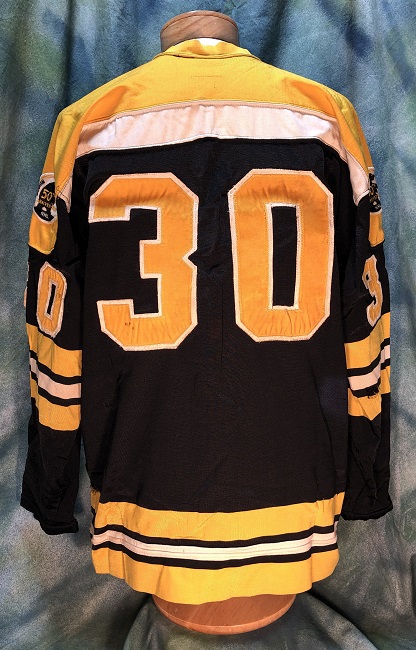 Road Jersey
Photo Source: Frosty's Hockey World
You can see more detailed information on this Ross Brooks jersey HERE
The neck tags display the "Wilson" brand name and either a magic marker written "73" or "74".
I believe the year correlates to the Set#: "73" = Set 1 | "74" = Set 2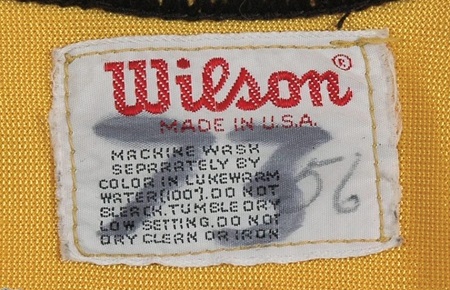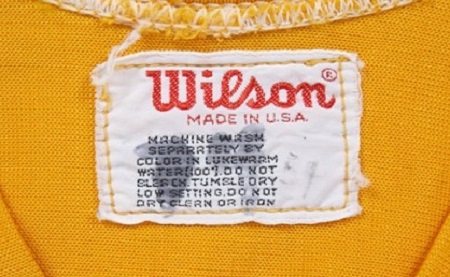 Manufacturer:
Wilson
Style:
Dureen Knit
Patches:
50th Anniversary shoulder patch with standing bear
Fight strap style: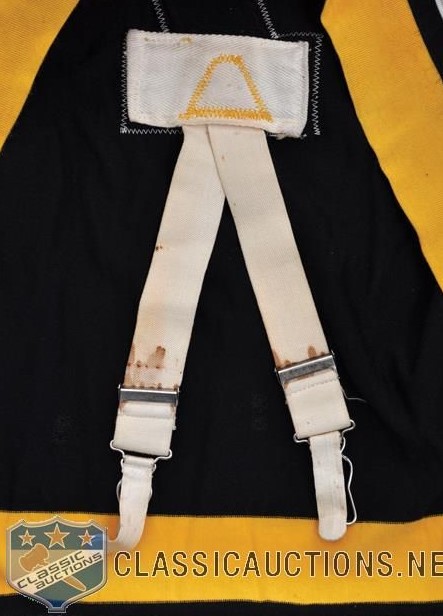 1974 Stanley Cup Finals - Nameplates
Game 1 – Boston
– No Names On Back (White\Home)
Game 2 – Boston
– No Names On Back (White\Home)
Game 3 – Philadelphia – Names on Back (Black\Road)
Game 4 – Philadelphia
– No Names on Back (Black\Road)
Game 5 – Boston
– No Names On Back (White\Home)
Game 6 – Philadelphia – Names on Back (Black\Road)
Boston Bruin Goalies in 1973-74:
Gilles Gilbert
Ross Brooks
Ken Broderick
1974 NHL All-Star Game Jerseys
The Boston Bruins would have five players suit up for the NHL All Star Game on January 29, 1974 in Chicago. However, they were very close to not sending any players at all to the game as a protest for the NHL not suspending Bill Barber for his illegal leg check to Bobby Orr, weeks before the game, which injured the star defenseman. The NHL would eventually suspend the $#@% Barber and the Bruin contingent agreed to play. Orr was unable to play due to the injury.
Bruins to participate in the All Star Game:
Gilles Gilbert (goalie)
Dallas Smith (defenseman) - as Bobby Orr's replacement
Phil Espositio (center)
Ken Hodge (right wing)
Wayne Cashman (left wing)
Here is an example of the jerseys the Bruins wore during the game: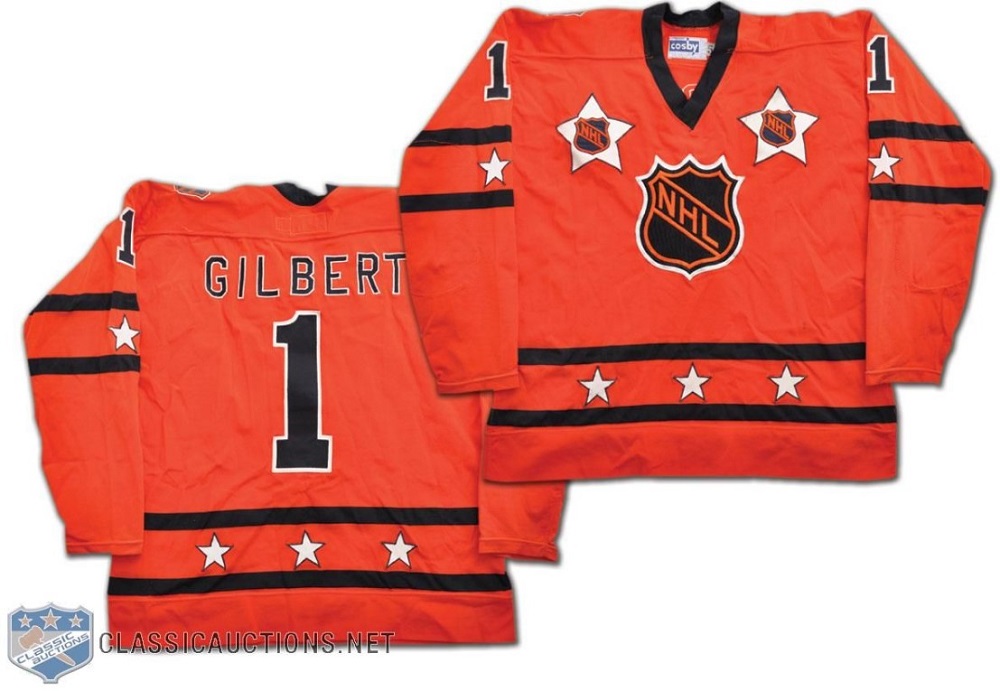 *Note:
I am desperately trying to locate the jersey shown that was worn by Gilles Gilbert. Any assistance would be greatly appreciated.
Here are some photos from the 1973-1974 season: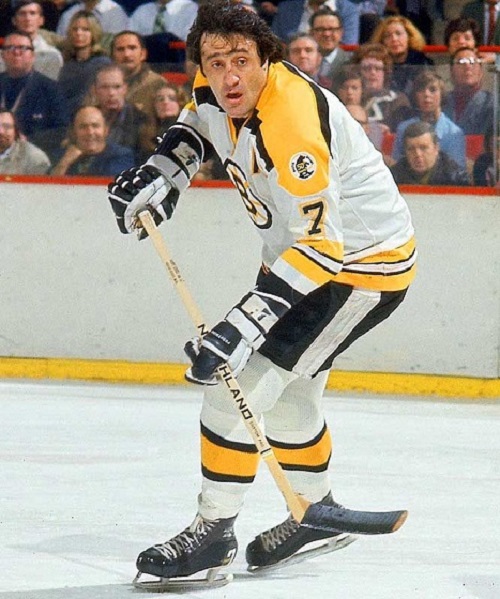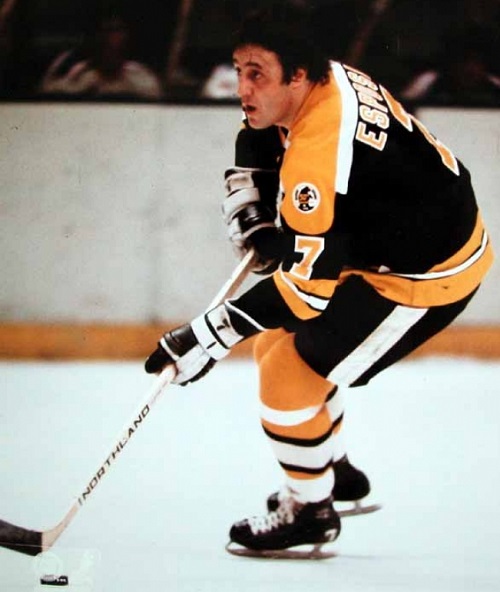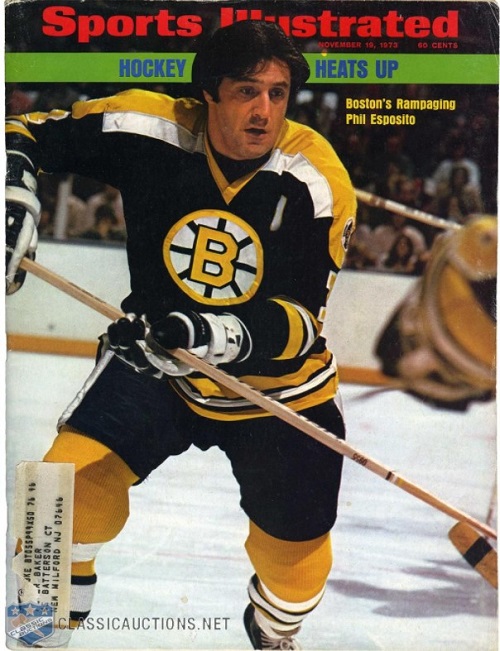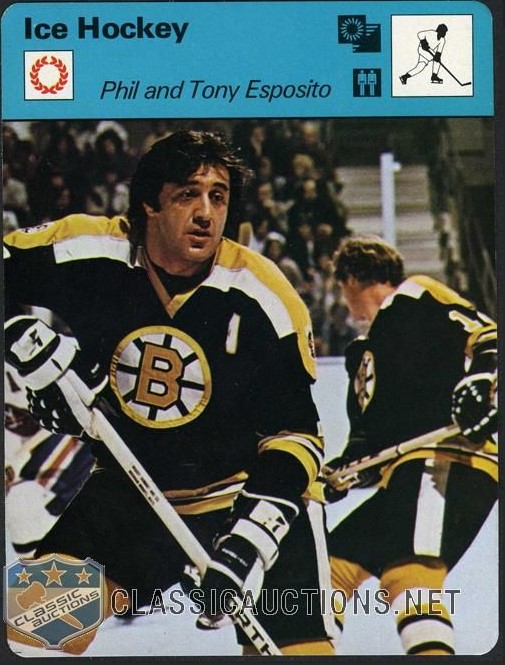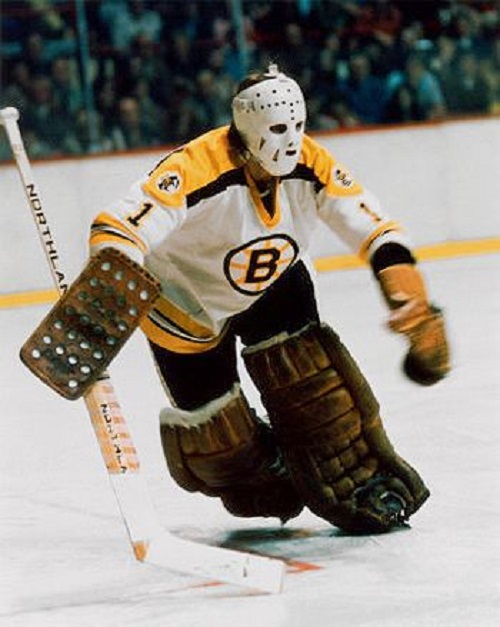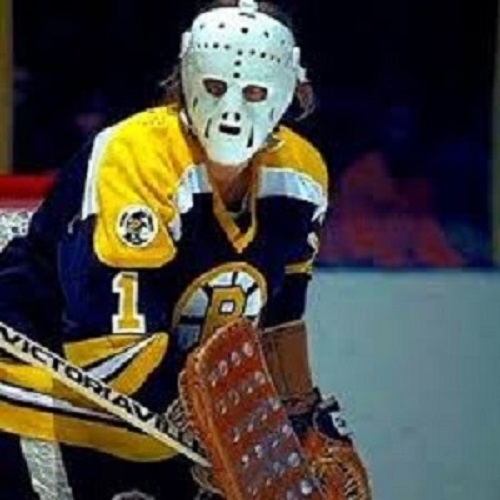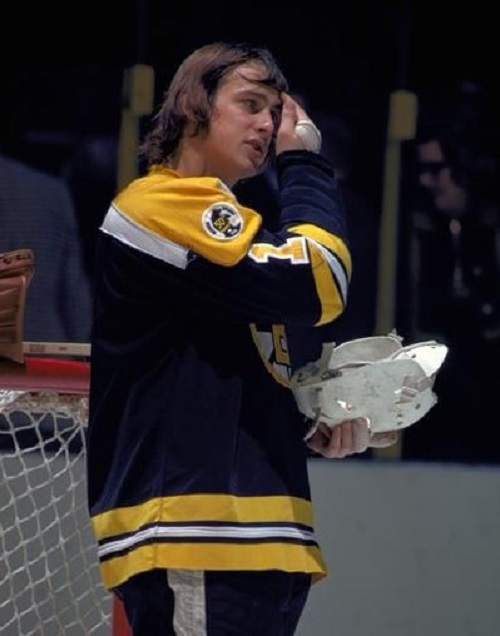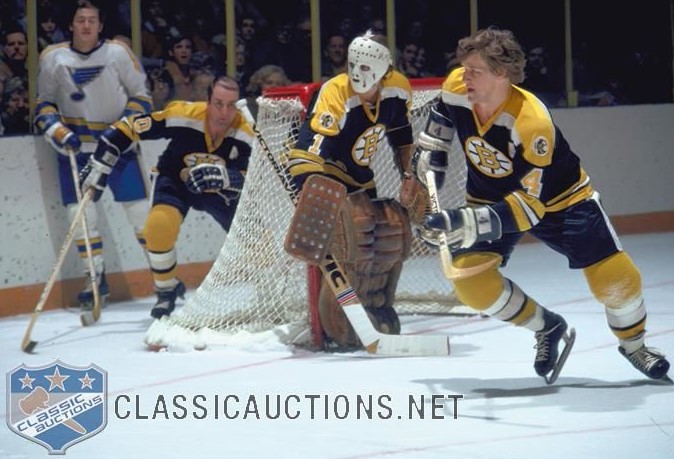 1973-1974 Yearbook, Media Guide and Programs: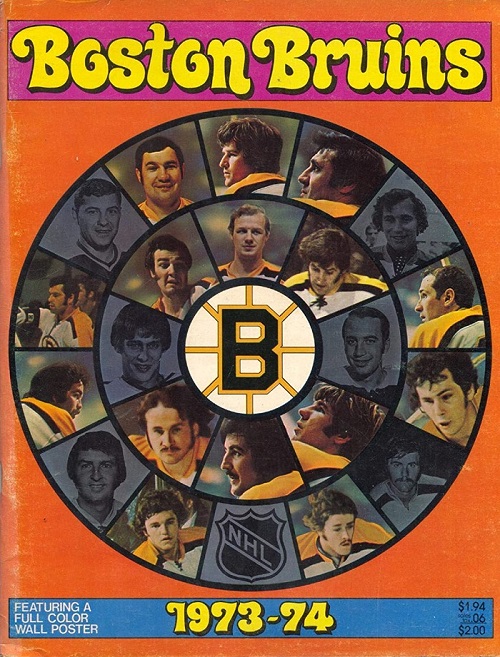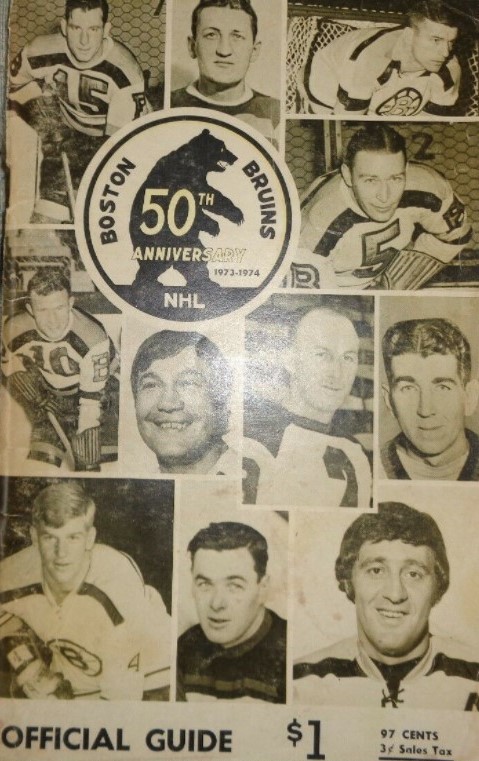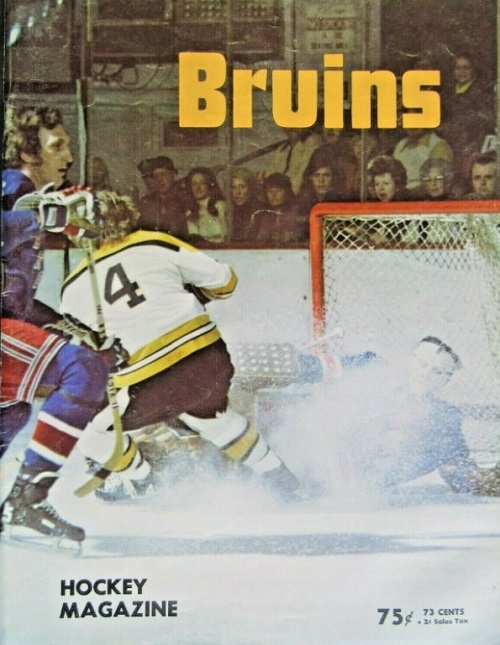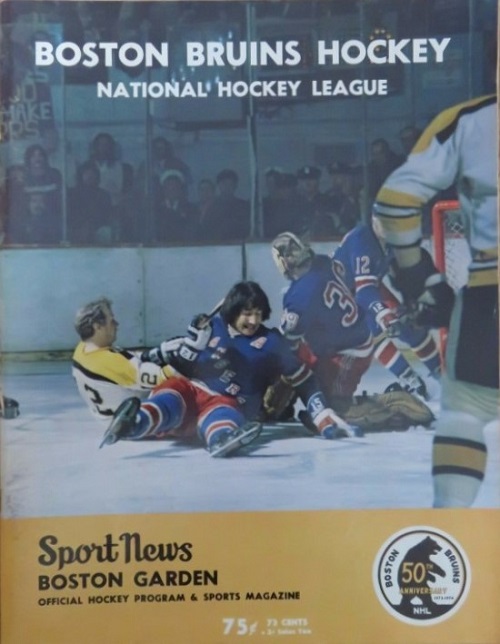 1973-1974 Ticket Stubs: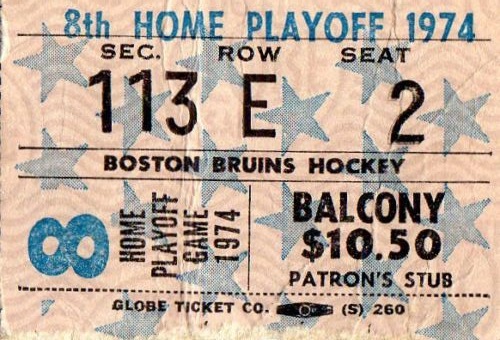 Stanley Cup Finals vs. Philadelphia
Game 5



Past Auction Results:
1973-74 | Phil Esposito | Road\Black | Details
1973-74 | Phil Esposito | Road\Black | Details
1973-74 | Gilles Gilbert | Road\Black | Details
1973-74 | Phil Esposito | Road\Black | Details
1973-74 | Gilles Gilbert | Home\White | Details
1973-74 | Dallas Smith | Road\Black | Details
1973-74 | Bobby Orr | Home\White | Details
1973-74 | Carol Vadnais | Home\White | Details
1973-74 | John Bucyk | Home\White | Details
1973-74 | Phil Esposito | Home\White | Details

---