Boston Bruins Jersey History: 1970s
---
The decade of the 1970s started with a big bang for the Bruins as they captured Lord Stanley's cup in 1970 and again in 1972. With Bobby Orr, Phil Esposito, Gerry Cheevers, John Bucyk, Gilles Gilbert, Brad Park, Jean Ratelle, Rick Middleton and, of course, Terry "Taz" O'Reilly, among others, the Bruins iced a very competitive team throughout the decade appearing in the Stanley Cup playoffs each season with appearances in the finals in 1972, 1974, 1977, and 1978.

In addition to the various Cup Finals appearances, the Bruins would also have a very memorable appearance in the Stanley Cup Playoff Semi-Finals in 1979 against the Montreal Canadiens, pushing the series to a seventh game in Montreal which would, sadly, become known as the "too many men on the ice" game.

Perhaps one of the best teams in NHL history to NOT win the Stanley Cup may very well be the 1970-71 Boston Bruins. After a record-breaking regular season, the heavily favored Bruins would bow out in the first round to a rookie goalie named Ken Dryden and the Montreal Canadiens.

Almost as shocking as the 1971 defeat, the Bruins also experienced a shocking early playoff exit in the 1975 Stanley Cup Playoffs when the Chicago Blackhawks, led by the remarkable play of Tony Esposito, bounced the favored Bruins 2 games to one in a quick 3 game playoff series.

A team that many considered to be on the verge of a dynasty as the 1970s started, would have the fabled knees of Bobby Orr, the arrival of the WHA, and a referee's whistle in 1979 leave the team with only two Stanley Cups and a whole bunch of "what ifs"...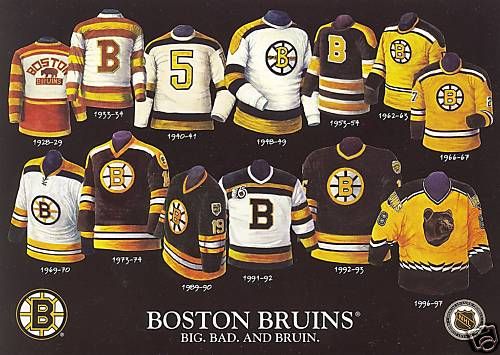 ---